Background Remove
Background Remove is a tiny thing but in today's market it is required and quantity is high. Now there is some excellent software for background removal through which we can do it very quickly in a short time.
This is where premium software works best. Today we will talk about some background remover software and how they work.
No.1: Photoshop
Photoshop does a great job of background remover. Even big companies and agencies work with Photoshop. Its features are unmatched. Today we just know how to remove the background with Photoshop.
There are 5 different ways to remove background in Photoshop
No.1: This is the simplest method in Photoshop for removing an image's backdrop. If you don't care too much about your subject's edges being neat, this method is best.
Open your image in Photoshop first, then select the Layers panel on the right. Press CTRL+J on Windows or Command + J on Mac to duplicate the current layer.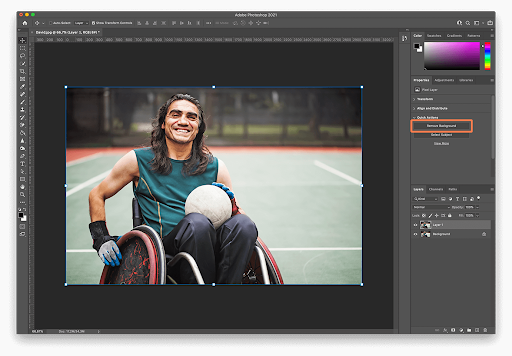 The background should now be completely removed in Photoshop when you complete the last step, which is to navigate to the Quick Actions menu and select the Remove Background button.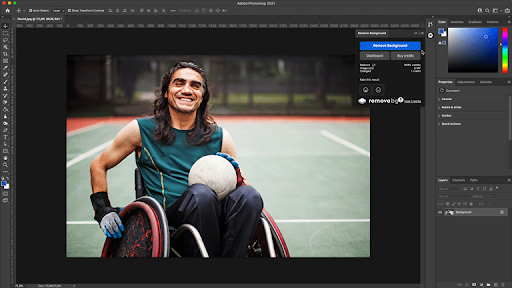 No.2: The best method for separating the background from the subject in a Photoshop image is to use the remove.bg plugin.
In terms of isolating intricate features or edges like hair, the plugin performs better than the software. Additionally, you may use the layer mask to crop or restore portions of the image with just one button click.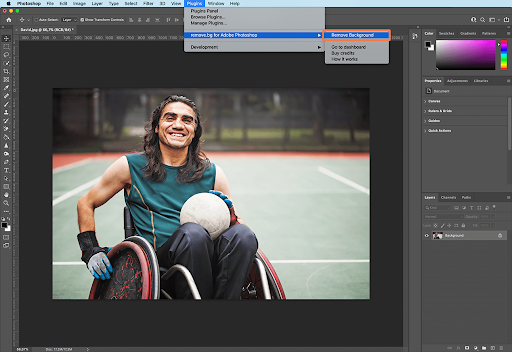 Start by performing the following actions:
Get the plugin now. The Photoshop plugin from remove.bg is available for no cost to download. Additionally, you may purchase credits to process photos, which you can use across all remove.bg integrations and products. After installing remove.bg, you can access it from the Plugins drop-down menu.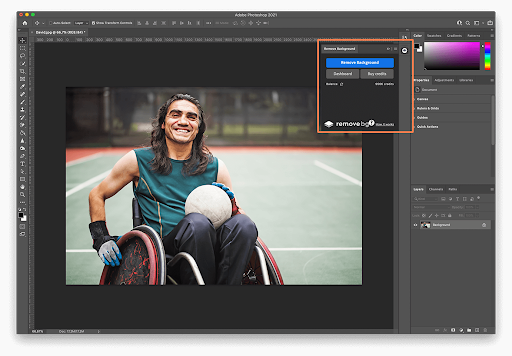 To remove the background from an image (or selection) that is presently open in Photoshop, log into your remove.bg account and click the Remove Background button whenever you want to do so. Remember that the remove.bg API is used to process the image, so you'll need both an active internet connection and an API key (which you can find on the dashboard of your account).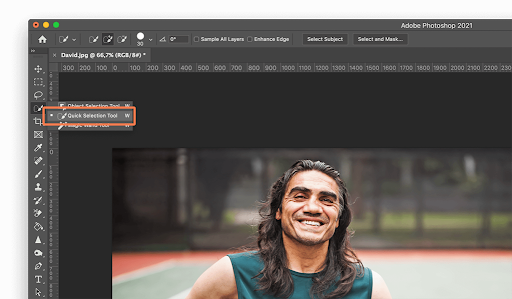 You receive 50 free monthly API calls for preview (lower resolution) photographs as well as one free credit when you sign up.
Visit our support page for more detailed installation instructions, and click here for more information on remove. bg's pricing.
No.3: Here are few steps.
Step 1: Open your image in Photoshop
Step 2: Find the Quick Selection Tool in the left-hand menu (Photoshop Toolbox). It could be nestled in Magic Wand Tool.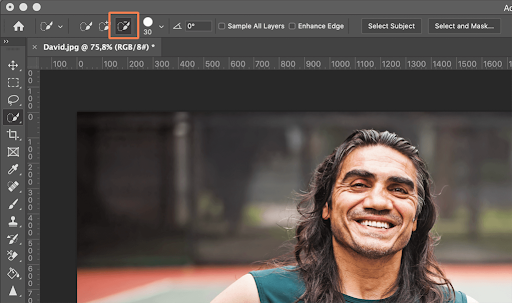 Than, The Enhance Edge option in the Options menu should provide you with selection edges that are smoother and of greater quality.
When you have the pointer over the region you wish to pick, click the button. Up until it believes it has identified an edge, Quick Selection will look for tones that match the selection.
You will decide to expand the options. If so, simply click and move your mouse over another spot.
You can take something out of the option if the Tool was being overly enthusiastic. To accomplish that, navigate to the portion you wish to deselect and click the Option key on a Mac or the Alt key on a Windows computer.
Or you can change the Tool to deselect (minus) in the menu bar to deselect anything you mouse over.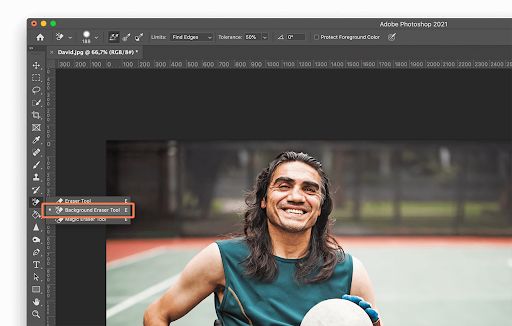 No. 4: You can also use Background Eraser tool
Step 1: Open your image in Photoshop
Step 2: Find the Background Eraser Tool in the Photoshop Toolbox. It might be hidden within the Eraser submenu, so click and hold that or press E to highlight it.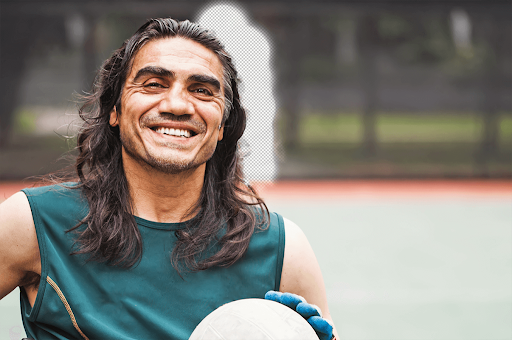 Than, Ensure that the brush is the appropriate size. You may change it in the menu bar or using the [and] bracket keys. While using a wider brush is quicker, accuracy is required when working in small locations. Additionally, you should and may zoom in.
On the slider as well, the brush should be good and firm. You will leave behind artifacts if you have fuzzily defined edges. Hardness will either decrease or increase as you shift.
On the Find Edges menu, select Limits.
Click after positioning the brush's center on the color you wish to erase. Any complementary color that falls within your tolerance (see below) will be removed, leaving behind other hues, such as this.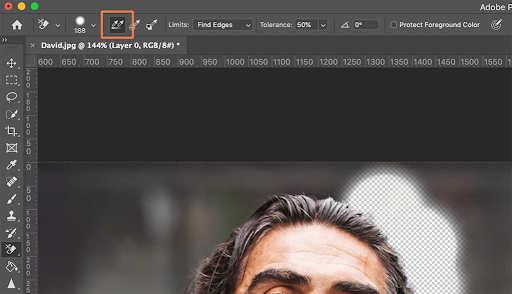 The size of the color bracket that the circle will remove determines tolerance. There are yellowish stalks and brownish leaves, so if you were attempting to remove this grass from below the legs, you would want a high tolerance. It goes without saying that you can be in trouble if someone is sporting green leggings. Set it at 25 first, then monitor your progress.
Remember that the Background Eraser Tool will remove any matching color that it crosses in its crosshairs, so make sure that it is over the background color only.
The default setting for Background Eraser is Continuous Sampling.
This implies that any matching color those crosshairs find will be deleted. You will need to keep sampling and eliminating colors from your backdrop if it has a lot of distinct tones. However, you may switch to Once if you simply have one color (or a small range of colors), like a blue sky.
In that scenario, no matter whatever color you mouse over, it will only sample and remove the one you initially clicked on. You are less likely to accidentally erase a portion of the subject.
Here's another approach if your topic keeps disappearing because the backdrop color and your subject are too similar. To protect the foreground color, click (far right of the Tool menu). The eyedropper tool will appear when you press and hold the Alt (Windows) or Option (Mac) key. Use it to sample the color you wish to keep safe from fading.
No.5: The Pen Tool is the closest to freehand drawing that you can get without using AI selection. (Of course, Freehand is a choice you have in Layer and Mask, especially if fuzzy margins are OK, like a light sea against a light sky.)
Anyway, the Pen Tool enables you to outline a region using a combination of flexible curves and straight lines. By hovering your mouse over a node and hitting the Control/CTRL key, you may switch between the two.
It's difficult to explain how to use the tool in words since it's so simple to use! The best course of action is to watch this Polearm video and then ease into using it. It's a lot of fun.
You wish to build a Path using the Pen Tool (on the far left in the layer panel). To convert a Path into a selection, right-click on the selection and select "Make Selection…"
When dealing with a selection, you might wish to slightly increase the edge feathering since sharp edges might appear unnatural, especially when contrasting with a bright background.
Choosing more carefully
We've demonstrated a number of techniques for removing backgrounds from images in Photoshop.
You have probably already realized that there is no ideal method (you might get left with areas of color in between hairs, you might find parts of your subject get cut off).
Fortunately, you can mix approaches, especially if you work in Paths, which allows you to change a selection's outline as you go.
You might use the Quick Selection Tool to pick the object, then the Background Eraser Tool to remove any background colors that were left behind.
Making your initial choice before clicking the Select and Mask button is an alternative strategy.
By doing so, a completely new set of options will appear, allowing you to adjust the edges of your selection or the type of edge (for example, you can feather it to make it softer or increase the contrast to make it harder).
Some of the tools are recognizable from the primary Photoshop menu.